Happy New Year!!!

And we celebrate new year with fireworks.
After reading tips on how to photography fireworks from a website, took my cam and dusted tripod, joined some friends of mine at Desa Parkcity for some awesome fireworks performance during New Year Eve.

Travelling around the venue, we've spotted the forbidden area where the fireworks will be launched. So for sure, the best view spot would be directly facing the launching site, where the area was already full with people waiting for the countdown.

Not much choice left, so we choosed a slope beside a lamp post, which is a VERY BIG MISTAKE. But then, what choice do I have?
So with a little bit of test drive, tried to avoid the lamp post in my framing, but still, the flare from the light still appears in most of my photo.

Framing using portrait style is good, with the lake included, despite all those idiots walking around.



So the fireworks begun.
At first I forgot about my ISO setting, which is at ISO1600. Noise, and too overly exposed.



Tried using ISO100, too dark.


Fireworks do not look nice too if shoot using long exposure time.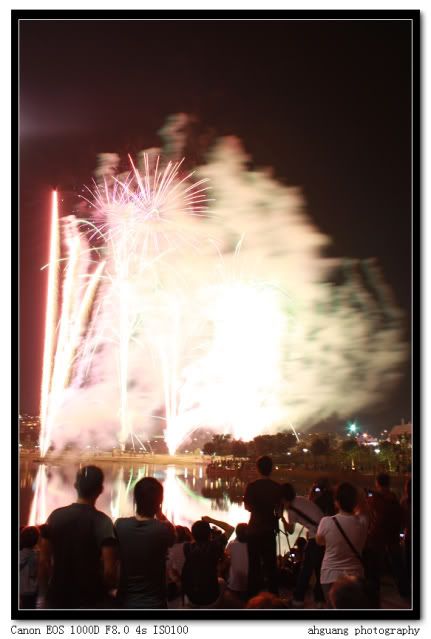 Darn those heads below... hahaa..

Then I was satisfied with ISO400. Exposure time can be set between 1s-4s, with photo properly exposed and complete fireworks.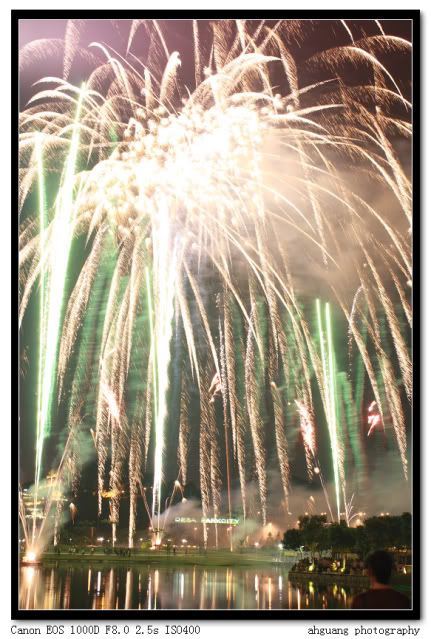 Still, sometimes i was lost in the rhythm of the fireworks (I was using 2s timer to reduce effect of shutter pressing).

Main problem will be the smokes produced by intensely shooting fireworks until it affected the fireworks.



Then, the intensely fireworks also do not look nice in my shooting. Wonder why is that..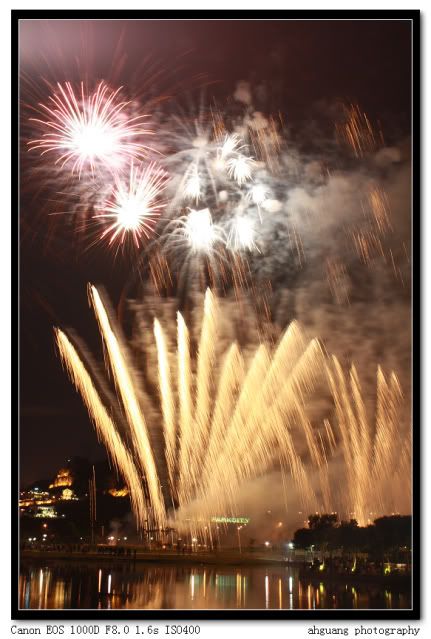 Probably it's because I lost the MOMENT!!! >>>which is failure to follow the rhythm of the fireworks..

In later stage I was already thinking, what the hell. Just let it shoot, I'll just keep pressing the shutter and let me enjoy the show.
And so the tips is, just let the camera there, click it, let it shoot while you enjoy the live fireworks. Hahaha..
I like this out of all shots. Fireworks fall like meteorites falling from the sky.




One of my favourite shot of the day too:


Sky with Kung Ming lantern.

And a kid sitting beside us during the fireworks performance. He looked so cute when he saw fireworks performance from another venue.



This belongs to one of my friends shooting at KLCC that day. I like her framing...
http://www.facebook.com/media/set/?set=a.10150493678157566.397118.649102565&type=3


Have a very happy new year ahead!!