These are some photo I took during the journey to the Chinese Musical Instrument Performance near Setapak. Just some photos that I've longed in taking it, taking a photo of the view at the back of an LRT. Its nothing much interesting about the photos, just wanna post it on as a memory. You can skip this post by not clicking the "read more" below...


This post is quite related to shutter speed. When I first have a real conscious about photography, I visited a photography forum in chinese.cari.com.my, and fascinated by a photo taken at the back of LRT. Since then I have been longing to take such shot and today I tried so..

Here's a dull photo, did not show any motion.


Shutter speed too fast, freezing every movement.. Some more the level is tilted. The left side is higher than the right side.

Then I tried several other shots. These are some of the interesting ones..


Overexposure(photo too bright), without any details from background. Yet I like de sense of movement inside.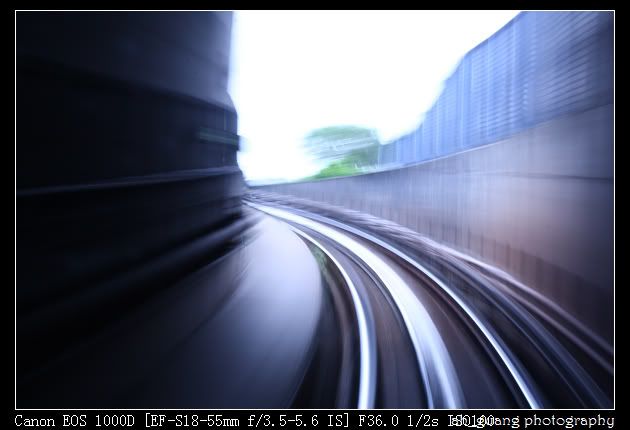 Moving into a tunnel. With a curve, the photo becomes more attracting.



Inside the tunnel. Too bad reflection of view inside the train was taken too on the window.



This one, I like the curve too. And the feel of expansion. But hand-shake blurry is clearly observable.. The train is too shaky.. haih..

Hope you enjoyed de photos!