The post for tis week has'nt been written yet. It will probably writing about 'blurness' in photo. How do blurness occur? Stay tuned for tat! Hehe.. Meanwhile, I wil post about some photography competitions tat i discovered lately..

De biggest photography contest i noe for now is the KL Photo Awards.
Prize money is good, $2500 for 1st prize, n de photo entries last year, was'nt tat impressing to me after all. Top 50 entries selected will be printed and exhibited in Annexe Gallery, and the best thing is, u get to take back de printed photo (which i suppose is in BIG size!!!).
There r two categories in the competition, the 1st being single portrait photo, and the 2nd wil be story portrait(meaning submit a group of photos to tell a story). However, there is a price to pay. For individual portrait, each entry is charged $10(max 8 entries), whereas for story, each entry is charged $50. All $ is in USD...
Note: All entries must be received by 2400 hrs GMT on Wednesday, 31st March 2010.


Then i found tat Western Digital, a company reknown for producing hard disc drive(HDD) are also organizing a contest involving photo or digital art. The details can be found here. 1st prize is an Apple MacBook, and there are weekly prizes to be won too. The competition requires u to find the best way the concept of BGB (wat it means? refer to the website). Entries posted are also being uploaded in the website too.
Note: Closing date on 28th Feb 2010.

WWF pula organize a contest tat call for entries. The best thing about this competition is de winner gets to publish his photo in WWF's magazine cover/ used in calendar publishing. Rules and regulations are written here.
Note: The final date for submitting photos is 31st January 2010, 11:59 pm Malaysia Time.

Some of u might even noticed in my advertisement powered by Nuffnang, Milo r also helding the "Milo Fuze Jam-Packed" Contest. Snap ur photo wit ur Milo! Its juz tat easy, then ask ur fren to vote for u, u'l win I-Phone +RM1000 for 1st prize.. hehe..
Note: The Contest will run from 30/12/2009 at "00:00:01" to 26/04/2010 at "23:59:59"

Well, the last one being the one on Facebook, by Canon Malaysia. EOS FACEbulous photography contest, coming out wit 20 themes are open for all fans of Canon Malaysia group on Facebook. 20 themes are available to choose from. Join as a fan of Canon Malaysia, submit ur photo in the theme ur choosed, then ask ur fren to become a fan n ask ur fren to vote for u. Photo wit highest rating wins. (erm, vote for me too, Ong Guang Han in theme TODDLERS)(thanks.. :-P)
Note: Competition closes on 15 Feb, 2010

This is the photo i posted for de facebook competition. A baby sleeping on his mommy's shoulder in a wedding dinner, Kulai, Johor.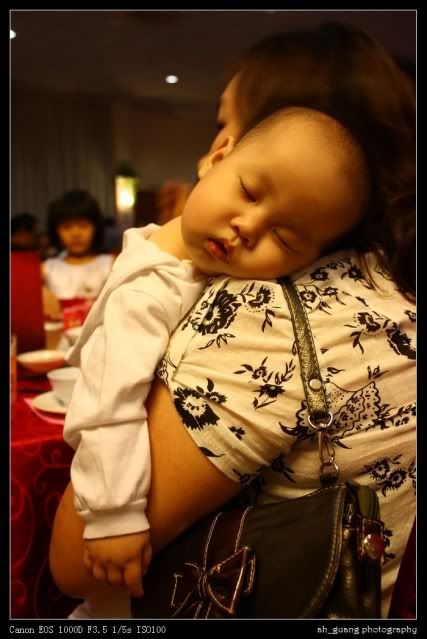 One of the main reasons tat I wanted to participate in photography contest, I mean other than the prize money is, these kind of contests drive me to think, to take photo, and to be creative in taking it. As u may haf seen in the entries of some of the contests, almoz all photo wit the same theme wil end up in the same idea/perspective of photo. So in order to win, u muz be extraordinary. And, I wanna WIN!!! So, i participate and i use my brain. Then oni my photography skills wil improve. I hope u would do so!